GOLF TOURNAMENT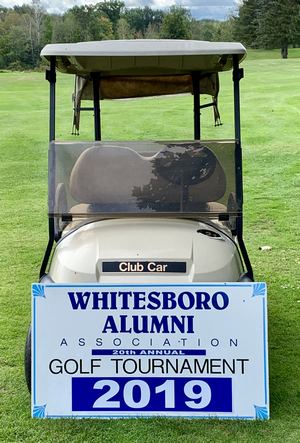 When Ronald H. Hovey Sr. introduced the idea of a golf tournament to raise scholarship funds, we thought he was crazy. Now here we are, 20 golf tournaments later, having greatly increased the amount of scholarship money we've been able to award Whitesboro seniors. Since 1974, when we awarded our first scholarship of $100, we have now given just shy of $200,000 in scholarship money. Ron Schoen, a classmate, worked with Ronald to make it a reality, and then continued with it after Ronald was no longer able. This year we would like to acknowledge those who also have chaired the event, helping us to build it bigger & better: Paul Head '74, Bill Barry Jr. '74, Cheryl Partyka LaValley '76 & Renee LaValley '00. This year, Gert Briggs Hovey '51 & I, Linda Hovey Schmitt '75, took it on. How great to see so many returning golfers!

120 golfers took to the links on an overcast day. Some light sprinkles fell, but not for long, and then the sun decided to come out. Each golfer was given a Whitesboro golf umbrella, "blue or white" Gatorade, and a goody bag. Usherwood Office Technologies, through Roger Hovey '80, once again generously became our corporate sponsor, and the big prizes, as always, added to the excitement. Michael Schmitt '04 won the putting contest to be eligible for a $5000 cash prize. He missed a 60-foot putt by about 3 inches, but it was exciting for all who witnessed that putt!
Through the generous support of our WCS community, there were about 70 door prizes. All golfers' names were also put into a drawing for a flat screen television donated by TAS Electronics, which was won by Ron Roberts. Linda Baxter won the 50/50 raffle of $227.00, and the Skins pot of $560.00 was split between the Tom Schoen Sr. and John Klauser foursomes.
We would like to acknowledge Kevin McGrellis and his staff at Hidden Valley for the wonderful job they do each year hosting the event. We would also like to thank our non-Board members who were there to offer assistance; William Schmitt '74, Roger Potenski '74, Bob '52 and Carol Hastings '52 Wheeler, and Kathleen Moen. Overall, our 20th golf event was a great success, and it is our hope to continue the tradition for at least another 20 years!
Our golf tournament is our biggest fundraiser and is open to anyone who would like to support our scholarship program. The 21st Annual Alumni Golf Tournament is scheduled for Saturday, September 10, 2022. We hope to see you there!
20th Annual Alumni Association Golf Tournament Results

Flight A
1st Place: Ted Wegrzyn, Jan Kuta, Bob Wegrzyn, Mike Rolchigo
2nd Place: John Klauser, Ron Roberts, Mike Sullivan, Mark "Socco"
3rd Place: Tom Schoen Jr., Mike Bateson, Tom Bateson, Jordan Weigand

Flight B
1st Place: MBen Schoen, Steve Schoen, Marc Stofle, Timmy Schoen
2nd Place: Philip Scalise, Fred Scalise, Brandon Scalise, Jamie Temple
3rd Place: Mike Head, John Badger, Tom Furner, Mark Hill

Mixed Flight
1st Place: John Eberley, Barb Eberley, Peggy Pryzbyla, Jack Shaw
2nd Place: Bob Klumbach, Steve Klumbach, Andrea Klumbach, Dick Martell
3rd Place: Tim Fenton, Joan Fenton, Debbie Burke, Billy Buckley


Golf Tournament – Sept 10th 2022
Annual Meeting- October 12, 2022
Annual Spring Banquet - June 4th 2023


Anyone looking to support our alumni association can order a Blue & White Golf Umbrella for $15 (note: these can not be shipped, must be picked up) or Alumni vinyl stickers $5 please contact Linda Schmidt to purchase.

Those Receiving Emailed Newsletters: The emailed newsletters come from "John St. Pierre at Presto Print." DO NOT respond to that email address as it goes to the printer, NOT the Whitesboro Alumni Association. Since this is a massive emailing, be sure to check your email settings, junk mail folder, etc. if you have not received your newsletter by May 15th in the spring and October 31st in the fall! Also, check your subject line for information regarding your membership status.